Nazca, Arequipa, Copacabana, Cusco
by Laurence Rowe
—

published

Jun 10, 2006 10:38 PM
After a spending a couple of nights at Rici's in Lima (a friend and colleague from Oxfam) I took the bus to Nazca to meet up with my friend Cat and her friend Saul (who had to go back to Nazca to vote - compulsory in Peru). He runs a tour company and took us sandboarding on the worlds highest sand dune and mountain biking to a beach where we could see hundreds of sea lions as well as some penguins and a condor! Also mountain biked down from the highlands (where we saw Vicuñas) about 4000m and 100km back to Nazca.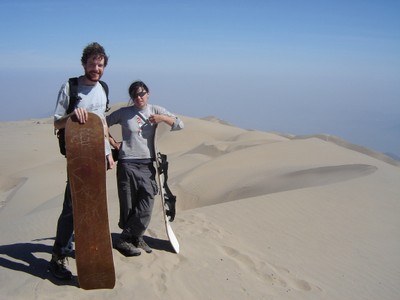 Got the nightbus to Arequipa last Saturday night and saw the excitement of the election results before going sightseeing and generally enjoying not having to get up at 5 or 6am every day.
Then it was off to Copacabana (Bolivia not Brazil!) to get Cat's visa renewed. It's a pleasant little town by Lake Titicaca. At 3827m above sea level it takes a few days to aclimatise (I felt quite ill the first night I got there) but the water is an amazingly vivid blue and the scenery stunning. Briefly visited the Isla del Sol but unfortunately had to rush off to get to Cusco, but I shall definitely return at some point.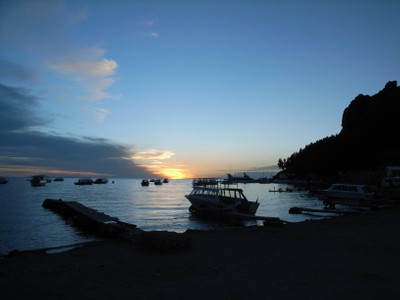 So to Cusco. This turned out to be a bit of a nightmare bus journey. Nearly three hours to Puno then a manic bus change for a connection to Cusco. Although promised "con baño" it wasn't, which would later prove to be a matter of some consternation for the many ladies standing for the journey.
The bus was packed long past the point of being full, eventually having 20 standing passengers all with more luggage and goods for transit than I had taken for my travels. Perhaps it was the excessive weight or maybe it was just the near bald tires that caused the blowout somewhere on the Alto Plano between Juliaca and Sicuani. The driver and conductor did manage to change the tyre in a rather impressive 20 minutes, giving us a wonderful view of the stars (I think I could see the plough upside down as peru is in the southern hemisphere) and could just about make out some snow capped peaks in the moonlight.
After the blowout we proceeded at a fairly sedate pace northwards. When we eventually reached Sicuani we watched with some confusion as the increasingly irate ladies on the bus got into a fracas with the driver. I think the reason was that they wanted the bus company to pay the toilet fee at the bus station (the bus had been promised with "con bañ0" after all). The travel policeman tried his best to stay out of it and after what seemed like an age, but was probably only half an hour, the gates were opened and our journey continued. We arrived in Cusco a little after midnight, three hours late and exhausted.
Now preparing to meet up with Saul in Urcos tomorrow morning to start our descent down to Puerto Maldonado and the jungle. By bike.