UK house prices after the credit crunch
by Laurence Rowe
—

published

Jan 25, 2009 05:54 PM
A year ago I was thinking of buying a flat in London. I'm glad I didn't.
The Economist recently reported on some research into the effect of past banking crises on asset prices and employment.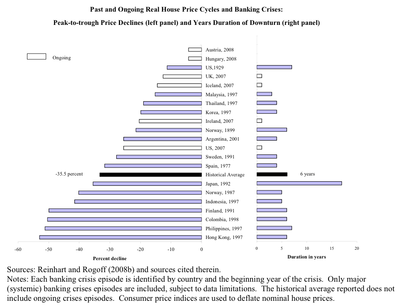 So if past crises are to be a guide to this present one, then we should expect house prices to decline by 35.5% from their peak in real terms (adjusting for inflation).
Notably, the duration of housing price declines is quite long-lived, averaging roughly six years. Even excluding the extraordinary experience of Japan (with its 17 consecutive years of price declines), the average remains over five years.
The Nationwide House Price Index shows us how far prices have fallen. Peaking in Q3 2007 at £192,500 (inflated to Q4 2008 prices, this time using the RPI instead of the CPI) they have since dropped by 18.5% to £156,828. Using the historical data as a guide, we should expect prices to bottom out at the end of 2012 at about £124,163 in today's prices.