Travel
by Laurence Rowe
—

published

Oct 28, 2007 11:28 PM
by Laurence Rowe
—

published

Jun 01, 2009 09:35 AM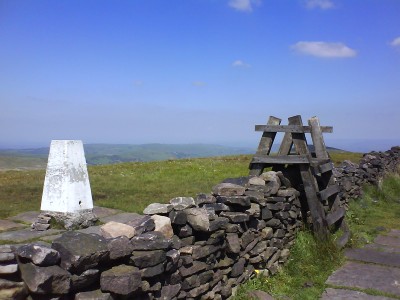 As with most of Britain's countryside, the Peak District is not a purely natural landscape. Yet, tamed by man and sheep – and even with a smog-bound Manchester visible in the distance, some innate wildness still seeps through.
by Laurence Rowe
—

published

Nov 05, 2006 08:10 AM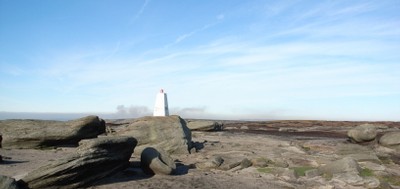 After landing at 8am I had another day to stay awake for, and what better way to spend it than to wander up Kinder Scout. Home a little after 9 I got the 10.45 train to Edale and went up Jacob's Ladder to Kinder Low, along to Kinder Downfall and across the moor to go down by Grind's Brook to enjoy a pint in the Nag's Head. It's good to be back.

by Laurence Rowe
—

published

Oct 31, 2006 09:11 PM
Travelling has been a great experience, but the time has come to return home. A few highlights of the past few weeks:

Vancouver is a city sorrounded by some of the most beautiful countryside.
San Francisco is the best place to party, both burners and pirates.
Seattle has more coffee shops than you can shake a stick at, and is a great place for adventures.
I've enjoyed my time in all of them, but I'm also looking forward to spending some time at home, where I can climb up Kinder Scout and look out over my city again, Manchester.

by Laurence Rowe
—

published

Sep 30, 2006 12:00 AM
Picking which hike to do seemed easy. The Howe Sound Crest Trail started very near to Vancouver and by a beautiful, challenging hike. I took a taxi to the ski parking lot on Monday evening and camped about a kilometre past the ski centre, after a bit of meandering on losing the trail in the dusk. Though it had been a very warm day there was a lot of dew after the sun went down. From my campsite I could watch the sun setting over the islands in the bay. Folding the tarpaulin over myself resulted in a rather damp sleeping bag by morning. Being in the shadow of the mountain I started the next day slowly. I found the trail again fairly quickly but lost it a few times in the thick forest. Getting higher route finding became much easier.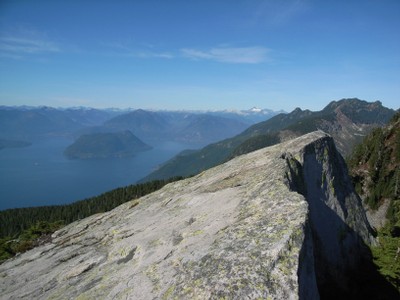 Reaching the peak of Unnecessary Mountain (really) in late afternoon and being in no rush I decided to camp near a couple of clear looking pools, water not being abundant on the next section, and giving my sleeping bag a chance to dry out. For the second night I tied one corner of my tarpaulin to a tree, attaching the other to rocks. I don't think that there was quite as much dew, but my sleeping bag was pretty much bone dry in the morning. Exposure to the morning sun helped too. At the base of the West Lion, half an hour's walk from my campsite I met the last person I was to see until I reached the highway the following day. Wednesday morning's section was half scramble, half trail skirting round the Lions' bases along sharp ridges. Ropes had been heplfully placed in several sections.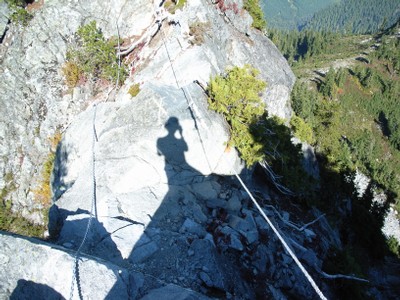 Sat in a glade having a break for lunch I realized there was no way I was not going to get off the trail unless I rushed and cut off the final section. Still being in mobile phone range of the city I cancelled my appointment at the university and warned my friend that I would be a day longer. An hour or two further on, unsure of which path to take I was sat quietly in another glade checking the map when I heard a rustling behind me...

Turning my head I saw a black bear not more than seven metres away. I looked at her. She looked at me, growling softly. I had my camera in my hand at the time, but not wishing to be another Steve Irwin I very slowly, very calmly packed the camera into my rucsac and stood up. The bear turned away and walked up one path, followed a few seconds later by her cub. The decision made for me I took the other path. Thankfully it was the right one.

The meeting was intense, but for some reason did not feel scary, perhaps only because no opportunity to be scared arose. It was over in a couple of minutes.
If the first peak was Unnecessary then second was accidental. Perhaps it was still thinking about the close encounter with the bear that I did not notice the trail getting steeper and beginning to average 60 degrees from horizontal. I did finally notice the sea was in the wrong place and put my pack down. With only a little way to the top I climbed up to see a wonderful view of islands in the sound and the obvious path behind me. I had reached the summit of Mount Harvey. The viewpoint did afford me sight of a mountain hut. Descending quickly as there was only another couple of hours of daylight remaining, it took only 45 minutes or so to reach the hut. Fortunately it was situated close to tarn. I had just drunk the last of my water. It was nice to sit in the hut and relax. I had felt pretty stupid on top of the wrong mountain.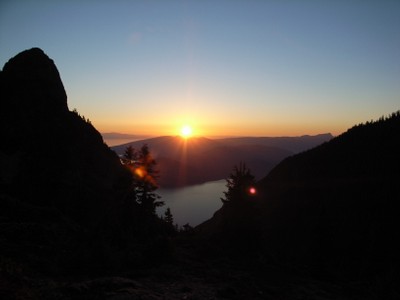 The final day left only a couple of hundred metres of ascent before I dropped into the lost world of Deak's lakes. Sorrounded on three sides by steep slopes I descended to a plateau with a series of lakes. Just before the first one another bear must have heard me as I saw it bounding across a clearing into some trees close to the path I was about to follow. I decided to give it a bit of time so took a (very brief) swim in the blue waters. Refreshed, I stomped my way along the path, making sure that the bear would not be surprised by me. It was a very steep trek down to sea level passing several waterfalls along the way. Route finding was tricky again once I got down to a flatter section with forestry roads, but I eventually found the path and got to the highway, hitching a lift from someone who had walked a day section close ending at the same place as me. I got dropped off in a town on the edge of Vancouver to enjoy fish and chips with a beer.
by Laurence Rowe
—

published

Sep 21, 2006 09:40 PM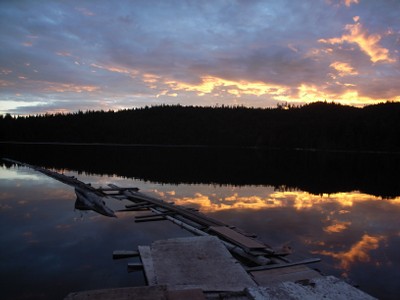 Running the Thompson river was intimidating and hard work at first, remembering how to paddle in a huge volume of water, going with the flow rather than fighting it to keep control. Following other people down allows room to think - and fear - more than how the next rapid should be run. But as we eddied out above one rapid I thought it better to get out and take a look rather than blindly follow the fisherman's advice that it looked better on the right. The fisherman's advice was sound and the flow went down the right hand side. Standing on the side above I could see a clear tongue of water there. And having inspected it I then had to lead down it.
On breaking out, any fear in the anticipation becomes redundant, as once in the flow of water the only choice is which way - not whether - to run the rapid. Sitting in my boat the change of perspective is unnerving. All I can see is one big three metre wave towering in front of me. That's the line. Paddling hard to gain speed I go up it. It's steep so I lean forward at the top to stop myself being flipped and punch through it. Then I'm on the crest of the wave and for a few seconds I can see the whole rapid clearly in front of me. I can now relax. There are no holes too close and all thats left is to ride out the smaller, choppier waves below the tongue of clear water. It's all over in less than a minute. It's exhilerating and a big smile is plastered across my face.
The next day we ran the Nahatlatch again. Beth, Pete and I had run it with some other people the day before while Jo and Andy drove to the nearest garage with the right part to fix the brakes. It was a beautiful river though. The river has two sections. The top one is relatively easy, and at these levels bony as it's rather low. The second through a canyon, a series of fairly technical drops all with nice pools below, at least at these levels - in higher water it gets really hard. It was the top section that got me. I mucked up my line and went over a rocky drop sideways bumping my ribs, just between the two bits of foam on my bouancy aid. It got Jo too. It was a beautiful river, though I ended up being unable to paddle for a few days afterwards.
Seeing the upper Fraser river I decided I had to paddle again. I did manage to appreciate the river, but only on a theoretical level. In practice it just hurt a lot as I tried to get down it paddling as few strokes as possible to avoid moving my back. It did have a rather big waterfall at the end. We looked at it earlier in the day and there seemed to be a line. Getting out again we thought it was definitely there, on the left hand side. There was a lot of water going over it, but it all pushed through with a big pool at the bottom. We set up Pete's camera to record video and got back in our boats. We decided to run it in quick succession as there was little opportunity to set up protection from the bank. It's best not to think too much about running a five metre fall. Accepting that I was running it I saw Pete go first, then Beth, then it being my turn I broke out and ran it....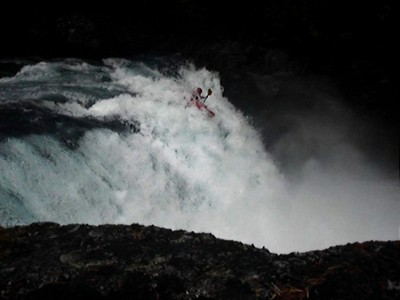 We were all ok, and provided plenty of entertainment for the people on the bank when me and Jo swam.
Paddled to the Chilko a couple of days after. We had to hire a van a driver to take us in as the road was too bumpy for our people carrier. It was the most beautiful and amazing river I've ever paddled. Paddling down we saw loads of fish eagles (I think they're the same as ospreys) and at least one golden eagle. I was wandering why it was called a golden eagle when it was just brown coloured until going round a corner and seeing it with the sun on it's back, it was beautiful. There were only a couple of grade 4 sections, but the second one, the white mile, was just a really cool roller coaster ride. Apparently there were lots of fairly big stoppers on it, but I was just concentrating on staying in the main flow so didn't really notice them. You tend to go where you look kayaking so it was probably just as well. The 23km section took about 3 1/2 hours, but it seemed to go much more quickly. That was my last paddling. We went to the Skook wave just north of vancouver for a couple of days on the way back. It's a tidal race thing that only works on an incoming tide. It forms a really cool play wave, but required paddling really hard to get onto and play on which would have just been really frustrating with a sore shoulder. But chilling out in a beautiful location was great.
by Laurence Rowe
—

published

Jun 30, 2006 10:58 PM
Back in Cusco these last few days after spending some time in the rainforest. Read Cat's blog entry for the details. Off to Machu Pichu tomorrow, though feeling rather ill at the moment... never mind.
by Laurence Rowe
—

published

Jun 17, 2006 04:11 AM
From the mountains to the jungle.
Our journey started early on Sunday morning with a 6am bus to Urcos from Cusco where we met up with Saul (whose bus from Arequipa had arrived at 3am that morning). After breakfast (soup and Lomo Saltado? Probably, it was to become our staple diet) we looked for a truck, but none would take us with our bikes. Out of one stepped a complete brass band (all the way from Puno) who struck up, marched the length of the town and back again, before packing themselved back into their truck and heading off for the religious festival of Qoyllur Riti.
The road to Puerto Maldonado has improved over the past couple of years and by 2010 will be paved (part of the InterOceanica highway project, designed to improve access for Brazillian goods to the Pacific ocean and on to China). We didn't encounter any asphalt on our trip, and had to ford countless streams and a couple of rivers.
Eventually a bus conductor decided he did have space after all and we were off. A brief stop on the way gave us a chance to stock up on coffee before we got off at the top of the first pass and rode down to Ocongate. After finding a room and having some lunch we hiked up to the cross above the town, then up to the telivision transmitter (manned by a guy who spent a week up there at a time).
The next day we had breakfast in the plaza while we waiting for a truck, again with no success (though it did give us time to manufacture some waterproof bags from plastic sheeting that proved rather durable). Eventually we tied the bikes to the top of a combi and got a lift as far as Mawayani, base camp for the pilgrims heading up the mountain for the festival. With nobody to take us any further we had to get on our bikes.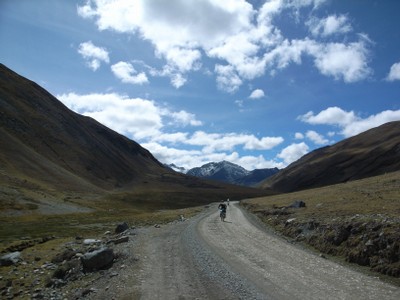 It was a long climb, but the scenery was beautiful. We stopped for lunch at the side of the road where a woman was cooking trout and potatoes on a fire. After three or four hours we reached the top of the Hualla Hualla pass (4950m) where we were met by clouds rising up from the other side of the mountain, and the first vehicle to overtake us.
Cycling uphill at this altitude is incredibly difficult. Though my legs never got tired, it was only because my lungs couldn't supply enough oxygen to give them the chance. It was slow progress, and by the top my head was beginning to ache from the altitude.
The descent down through the clouds was amazing, and gave us several opportunities to go off road. We stopped to buy water and biscuits at one village and then continued down where I got the first puncture of the trip. A quick fix and we were off again.
By this point my altitude headache was becoming pretty bad, not helped by the afternoon cloud we were cycling through. When we eventually reached Marcapata my head was pounding (altitude sickness seems to lag a few hours). But the hot springs made up for it.
The next morning I was fine and we headed off. The scenery was changing markedly before our eyes. I could hardly believe we were in the same country, it rained here! We had already descended from the highlands to the cloud forrest, today we would descend into the high jungle. When we stopped the night at Quincemil (15,000 what? we never did work that out) we saw our first monkey from the window. We passed some amazing looking white water along the way too.
Cycling in the high mountains was pretty chile. Quincemil was warm and humid. Spent the last couple of hours of daylight sitting and contemplating by the river, very relaxing.
Set off at dawn the next day to avoid as much of the hot and humid afternoon as we could. Was it San Lorenzo we had our first or second breakfast of the day? I don't remember now. Both were good, and at the second (where the road from Julica joins) we were mobbed by children wanting to see their photograph on my camera (while they achieved the most exciting pose).
We stopped in Mazuco that night, eventually finding enough accomodation (most places being booked up with all the work on the road). By this point it felt as if we were in a completely different country to the west of Peru. Motorbikes everywhere.
Set off early again for our final day of cycling, but only after having our first (and best) banana milk shakes. A lot of uphill had to be climbed, but we were rewarded with good downhill sections too. After rounding a bend the low jungle of the amazonian plain came into view. Twenty minutes later we were eating brunch in Santa Rosa at the foot of the Andes.
We cycled a further three hours on the flat and bumpy road, but called it a day at a town named 110 Kilometres where we ate some lunch and caught a bus to Puerto Maldonado.
Fancy an adventure on a bike in Peru? contact Saul. But if you want to do this one you better go quick, the first sections of tarmac will be in place by the end of this year.
Found a good deal on a jungle tour today, so off tomorrow for six days in the rain forest. Will upload some photos when we get back to Cusco.
by Laurence Rowe
—

published

Jun 10, 2006 10:38 PM
After a spending a couple of nights at Rici's in Lima (a friend and colleague from Oxfam) I took the bus to Nazca to meet up with my friend Cat and her friend Saul (who had to go back to Nazca to vote - compulsory in Peru). He runs a tour company and took us sandboarding on the worlds highest sand dune and mountain biking to a beach where we could see hundreds of sea lions as well as some penguins and a condor! Also mountain biked down from the highlands (where we saw Vicuñas) about 4000m and 100km back to Nazca.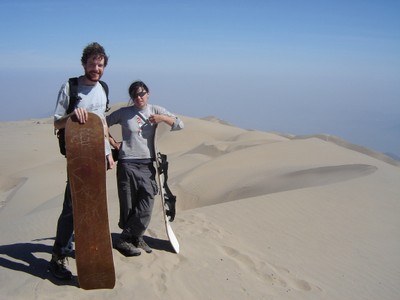 Got the nightbus to Arequipa last Saturday night and saw the excitement of the election results before going sightseeing and generally enjoying not having to get up at 5 or 6am every day.
Then it was off to Copacabana (Bolivia not Brazil!) to get Cat's visa renewed. It's a pleasant little town by Lake Titicaca. At 3827m above sea level it takes a few days to aclimatise (I felt quite ill the first night I got there) but the water is an amazingly vivid blue and the scenery stunning. Briefly visited the Isla del Sol but unfortunately had to rush off to get to Cusco, but I shall definitely return at some point.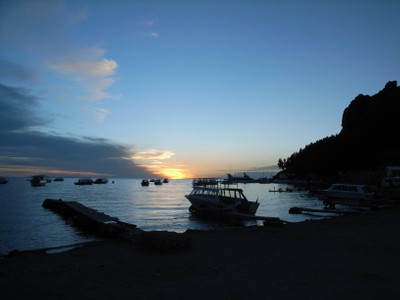 So to Cusco. This turned out to be a bit of a nightmare bus journey. Nearly three hours to Puno then a manic bus change for a connection to Cusco. Although promised "con baño" it wasn't, which would later prove to be a matter of some consternation for the many ladies standing for the journey.
The bus was packed long past the point of being full, eventually having 20 standing passengers all with more luggage and goods for transit than I had taken for my travels. Perhaps it was the excessive weight or maybe it was just the near bald tires that caused the blowout somewhere on the Alto Plano between Juliaca and Sicuani. The driver and conductor did manage to change the tyre in a rather impressive 20 minutes, giving us a wonderful view of the stars (I think I could see the plough upside down as peru is in the southern hemisphere) and could just about make out some snow capped peaks in the moonlight.
After the blowout we proceeded at a fairly sedate pace northwards. When we eventually reached Sicuani we watched with some confusion as the increasingly irate ladies on the bus got into a fracas with the driver. I think the reason was that they wanted the bus company to pay the toilet fee at the bus station (the bus had been promised with "con bañ0" after all). The travel policeman tried his best to stay out of it and after what seemed like an age, but was probably only half an hour, the gates were opened and our journey continued. We arrived in Cusco a little after midnight, three hours late and exhausted.
Now preparing to meet up with Saul in Urcos tomorrow morning to start our descent down to Puerto Maldonado and the jungle. By bike.
by Laurence Rowe
—

published

May 30, 2006 01:09 AM
New York is a little hectic, especially with jet lag. Lima in comparison is positively chilled. Only just made the flight to Lima, as the Continental representative was insistent that I could not fly without proof I was leaving the country within 90 days. So a mad rush ensued where I was directed among various employees to try and rebook my return flight. Eventually someone was found who was able to change my booking before I went on a mad run to get through security and catch the flight. Made it in the end though. On landing it turned out not to matter in the slightest. Oh well. I'm here now. Off to Nazca tomorrow.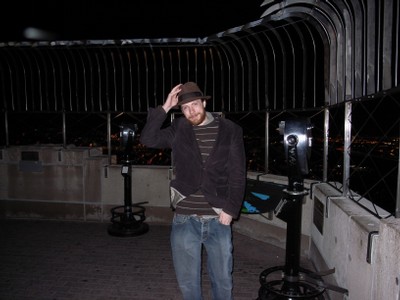 by Laurence Rowe
—

published

Apr 22, 2006 05:26 PM
Spending a couple of days in Oslo on route to a Plone sprint. Lovely sunny weather
Oslo harbour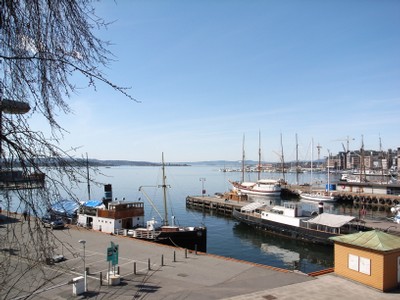 Vigelandsparken


At the sprint