Life
by Laurence Rowe
—

published

Oct 28, 2007 11:32 PM
by Laurence Rowe
—

published

Jul 23, 2009 07:40 PM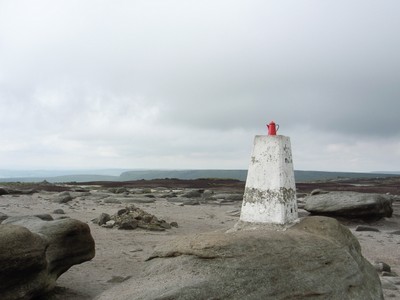 Home is a state of mind as well as a place. Perhaps it was only by leaving that I could realise what I had left. I'm glad to have had the opportunity to live and work in London and then Norway, but after 20 months away it is a relief to be back in Manchester.
I shall be very glad when my current project is out the way. I'm still getting to grips with permanent employment, project management and multiple projects competing for attention. As a contractor you usually only have one project at a time to worry about. When that finishes you have a break until the next one comes along.
The Latitude Festival was good, but it took me a couple of days to unwind before I could really enjoy it and do more than wander around dazed.
by Laurence Rowe
—

published

Jan 25, 2009 05:54 PM
A year ago I was thinking of buying a flat in London. I'm glad I didn't.
The Economist recently reported on some research into the effect of past banking crises on asset prices and employment.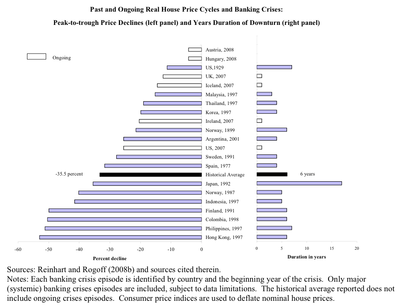 So if past crises are to be a guide to this present one, then we should expect house prices to decline by 35.5% from their peak in real terms (adjusting for inflation).
Notably, the duration of housing price declines is quite long-lived, averaging roughly six years. Even excluding the extraordinary experience of Japan (with its 17 consecutive years of price declines), the average remains over five years.
The Nationwide House Price Index shows us how far prices have fallen. Peaking in Q3 2007 at £192,500 (inflated to Q4 2008 prices, this time using the RPI instead of the CPI) they have since dropped by 18.5% to £156,828. Using the historical data as a guide, we should expect prices to bottom out at the end of 2012 at about £124,163 in today's prices.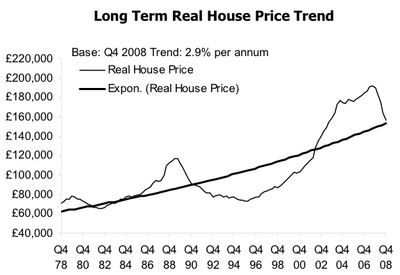 by Laurence Rowe
—

published

Oct 01, 2008 09:39 PM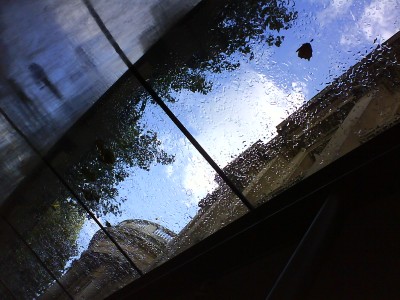 I'm glad to have spent some time here and there will definitely be a few places I'll miss, but I must admit it's a bit of a relief to be leaving. Perhaps there is just a little bit too much of it, but everywhere else I have been recently feels like an oasis of calm in comparison. Not one to do things by halves I'm off to spend the winter in Tønsberg, Norway. I mean, it can't really be that cold... can it?
by Laurence Rowe
—

published

Aug 10, 2008 08:40 PM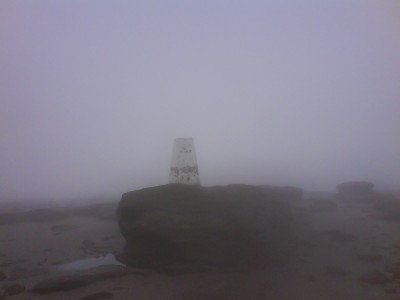 On Kinder, so long as you keep near the edge you can usually tell where you are. The moor has an other-worldly feel in the fog, with a peace that is difficult to find in an over-stimulated city. A little disconcerting, but you can always follow a stream back to the path. Still, there was something reassuring about finding Kinder Low.
Having woken early on Saturday morning I decided I needed to be up a hill. Even with a stop in Manchester to pick up a tent, I'd made it by 3pm. In this weather the only real option is to wear shorts and embrace the elements. Once you've stepped in a few puddles you can wade through the streams... I was glad of the warm shower when I got down though!
by Laurence Rowe
—

published

Feb 11, 2008 04:50 PM
Tidying is on hold. The minidisc of Beethoven's Pastoral Symphony is found. How can I do anything but sit and listen? The teasing progression building the desire for resolution.
And all the bloody processes and systems driven from my head.
Relief.
by Laurence Rowe
—

published

Nov 07, 2007 10:36 PM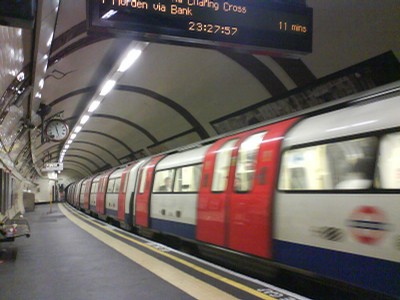 London is a funny place. There is little sense of community here, at least when considered in strict geographical terms. My friends are dispersed across the metropolitan area, without any particular hub.
Living here does have it's upside though. I can walk to work. Paris and Brussels are now as close as Manchester. Political life happens here, last week I could go along to a Fabian Society debate.
More functional than fun though.
by Laurence Rowe
—

published

Nov 05, 2007 10:46 PM
Sometimes we are privileged to see things that take us out of ourselves, transcending the everyday humdrum. Watching The National in concert is like that. It's not just that the songs are beautiful -- sometimes painfully so -- but that they are performed with such feeling and generosity. If you possibly can, see them.
by Laurence Rowe
—

published

Oct 24, 2007 11:42 PM
Welcome back to my lovely new look blog. Work rather took over for a while there. But have just found a flat in Bethnal Green so will no longer be spending my weeknights on the floor (or indeed my weekends in Manchester). For the last couple of months have been working at a bank, and am actually quite enjoying it. Good project. Down to a three days a week now and will hopefully have a couple of interesting projects to work on the other days.
Went to Naples and gave a talk at the Plone conference the other week. How I miss the warm and sunny weather (even if I did spend most of the time catching up on sleep).
by Laurence Rowe
—

published

Jun 04, 2007 09:24 PM
After eight years in Manchester it looks like I'm headed to London in September. The first shock is the price of accommodation, at least four times what I'm paying in Manchester, but oh well, lets see what the accountant can offset. I won't actually be working in London -- Oxford again -- but living in London means that I'll be able to sleep in my own bed at night. I never really got along with Oxford so wouldn't consider living there. Besides, I have lots of friends in London (at least half of the people I know have moved there for work). Hopefully it should be okay commuting two or three days a week and working from home for the remainder. I'll be living somewhere near Paddington.
I'm not sure London will ever be 'home' in the way Manchester has been. I shall probably make the move back here at some point.

by Laurence Rowe
—

published

May 28, 2007 11:08 PM
Perhaps it's just hitting the six month mark of returning from travelling, but I'm starting to get itchy feet again. Not so much to 'travel', just to 'do something'. I've not had enough work on recently to keep me interested. And the reality is that there will never be that great a choice of work in Manchester, and working at home begins to suck after a while. Perhaps the time has come to become employed.
But where to? Before returning home I was convinced relocation to San Francisco was the way forward,
but I'm not sure I can be bothered to subjugate myself to the whole visa rigmarole. That leaves London. Actually the more I consider it the more I think a stint in the City would not be a bad thing. The completely abstract nature of money at that level fascinates me. And working in an office in the city in which you live has got to be an improvement. I might also earn enough to be able to buy a house one day.

And if you would like to offer me a job, drop me a line ;-)

by Laurence Rowe
—

published

Feb 09, 2007 08:46 PM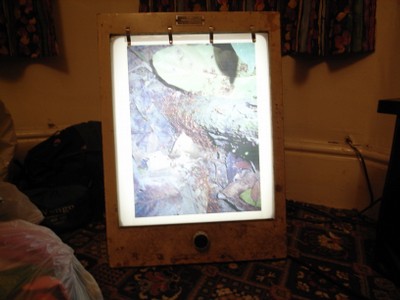 8 megapixel pics blow up to A3 happily, but colour laser acetates look a little washed out.

by Laurence Rowe
—

published

Nov 05, 2006 08:10 AM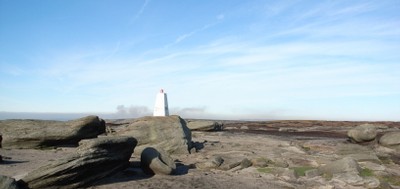 After landing at 8am I had another day to stay awake for, and what better way to spend it than to wander up Kinder Scout. Home a little after 9 I got the 10.45 train to Edale and went up Jacob's Ladder to Kinder Low, along to Kinder Downfall and across the moor to go down by Grind's Brook to enjoy a pint in the Nag's Head. It's good to be back.

by Laurence Rowe
—

published

Oct 31, 2006 09:11 PM
Travelling has been a great experience, but the time has come to return home. A few highlights of the past few weeks:

Vancouver is a city sorrounded by some of the most beautiful countryside.
San Francisco is the best place to party, both burners and pirates.
Seattle has more coffee shops than you can shake a stick at, and is a great place for adventures.
I've enjoyed my time in all of them, but I'm also looking forward to spending some time at home, where I can climb up Kinder Scout and look out over my city again, Manchester.